By Jonathan Hardy-Lavoie
Editor's note: an abridged version of this ran in Worcester Magazine August 7, 2019.
As the final whistle was blown in the FIFA Women's World Cup and the United States Women's National Team was crowned champions again, the crowd rose to their feet and cheered. They cheered for these glorious athletes as they achieved their dreams and brought our whole country along with them. As Megan Rapinoe, the co-captain of the team stated "We have to collaborate. It takes everybody. This is my charge to everybody: Do what you can. Do what you have to do. Step outside yourself. Be more. Be better. Be bigger than you've ever been before."
The crowd watched along with 20 million others across the United States and this crowd was right in our own backyard. They were attending a free watch party on the Worcester Common Oval, co-organized by the City of Worcester and Worcester Community Soccer Coalition. In attendance were younger and older soccer fans, those who grew up in Worcester and those who more recently began calling this home. People from every background came out to cheer on their team, a team that strives to represent and elevate people from every walk of life. As Worcester is comprised of a varied and vibrant population, it mirrors the shifting identity of the country and the team that highlights this strength in our diversity. The response to this communal win was resounding, and it was a beautiful display of the support for the beautiful game here in Worcester. The excitement and exuberance was palpable.
Despite the celebratory atmosphere at the conclusion of the tournament, the US Women's National Team (USWNT) took some criticism for being arrogant or scoring with abandon, especially during their first match against Thailand which ended in a score of 13-0. One of the booths that was present at that watch party on the Common was the Worcester Smiles, who are working to elevate the women's game here in the city. They just finished their second season playing in the USL, the second division league in the national structure. Midfielder Alanna Dolan who plays for the club has a different perspective. "Even in the World Cup, they're saying that they don't attract enough attention…they're trying to attract attention to themselves and that's the way to do it. You're on the biggest stage in the world, you should be playing out. They're saying that women need to bring more 'views' into soccer and that's the way to do it." She has been playing organized soccer since the age of four and has no plans of holding herself back any time soon. Although the Worcester Smiles played their last game of the season on July 8, they will be back in May of 2020 for those looking to continue showing their love for soccer by backing a local team.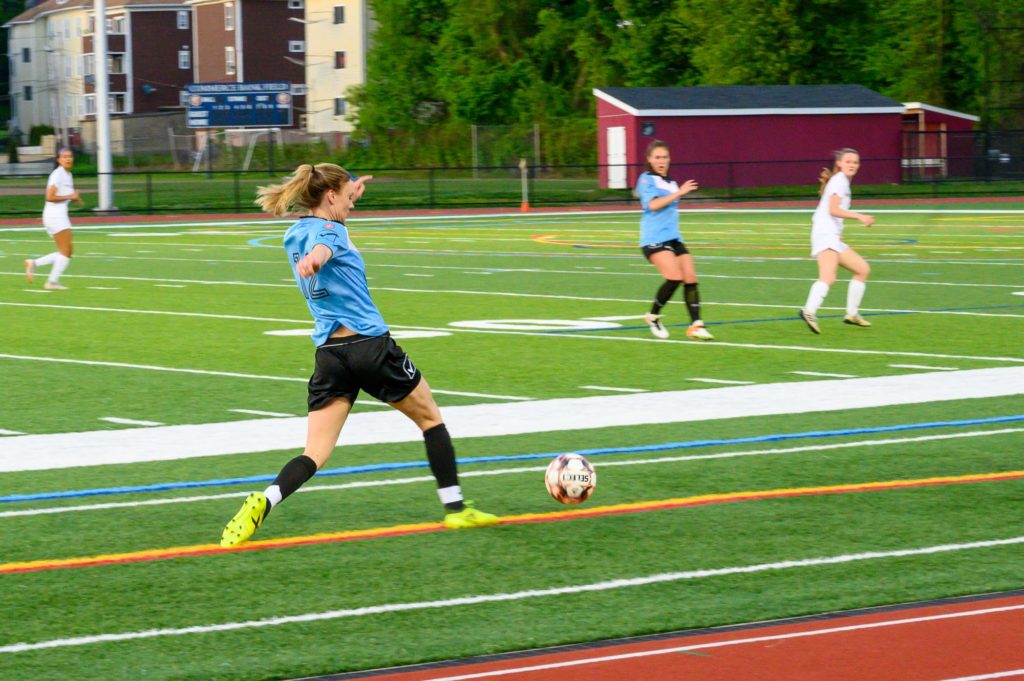 While we will have to wait another four years to follow the US women's team in the World Cup, and another three years for the men's team should they qualify, there's another World Cup that comes around every 12 months for Worcesterites and anyone else in the surrounding area who's hungry for some "proper football". The Worcester World Cup will be holding their 14th annual tournament on August 9th, 10th, and 11th this year. The tournament started off in 2006 at Elm Park Community School and moved to Foley Stadium several years later where they will be continuing the festivities this summer. The event brings together amateur teams from a diverse number of ethnic communities in Worcester to celebrate their love of the game and share their cultural backgrounds. It's no surprise then that the organization who hosts Worcester World Cup is aptly named Cultural Exchange Through Soccer. CETS – as the organization is often abbreviated – runs youth soccer programs, teaches youth leadership, organizes an annual indoor youth tournament called EPIC, and advocates for soccer on behalf of the immigrant and refugee communities that they serve. Laura Suroviak, one of the cofounders of CETS puts it this way: "I want to hope that The Worcester World Cup is an event that creates a main stage for communities that are playing in the city that maybe would be not known otherwise. It creates sort of an accessible way for I'll say 'mainstream' folks – people who were born and raised in an American culture – to connect in with communities that haven't been around for a long time and are less known in the city."
In addition, CETS also invites other groups who work with immigrants and refugees to join them in a youth summer league. The league is held throughout June on the field behind Elm Park Community School where Worcester World Cup started years back. Some of these other groups include African Community Education (ACE), Ascentria Care Alliance, and Bhutanese Community of Massachusetts (BCOM). The championship match for this year's league was a tightly contested game between CETS and ACE that concluded in a penalty kick shootout. With the final goal striking the back of the net, ACE came away the winners and streamed triumphantly down the field.
Moubarak Mahamat – a player for this championship ACE team – was born in Central African Republic and grew up in Chad. He moved to the United States three years ago at the age of seventeen and is an avid soccer fan. According to Moubarak, there's still a lot of room for growth in Worcester, "In my country soccer is the biggest thing. In the United States many people like to play football and basketball and volleyball, but soccer is not famous in the United States. I think if we keep playing then more people will join us, and they will start playing with us." Walter Jovel, a coach with Pickup 4 Soccer and long-time Worcester resident, echoes this sentiment. "It's not as accessible as say baseball fields, which I feel the city prioritizes. That makes it difficult to play on soccer fields. Usually kids or other people have to find fields and make what they can of it. But it has improved over the years and there are areas in the city where it is supported by the community. But I feel the city could do more.", says Jovel.
Walter Jovel and Kwame Appiah, both immigrants from El Salvador and Ghana respectively, run Pickup 4 Soccer. It's a free, kids drop in soccer program that runs at University Park on Saturday mornings for children ages 3-6. The program aims to make playing accessible for kids whose families may not have the time or financial resources to devote to a league or more formal structure. When asked what else could be done, Jovel had several ideas, "The city could give them access to city fields so they don't have to pay high fees. It could be worked out through grants or city contributions to promote events for youth and adults to play soccer for free. It could sponsor more tournaments and events that bring people together." Appiah adds, "There are a lot of immigrant children who don't have access to the game, and they are more likely to engage with a sport that they're interested in. The city could provide bathroom access at fields. Soccer is a game that requires a lot of hydration, so kids can have a difficult time when there isn't proper bathroom access." In addition to what could be done on the municipal side, Jovel did voice excitement at community efforts to grow the game, "I am happy that Worcester now finally has their own football team, the Worcester Smiles. I think that's a good step forward in making local people want to continue to play the sport after grade school or high school."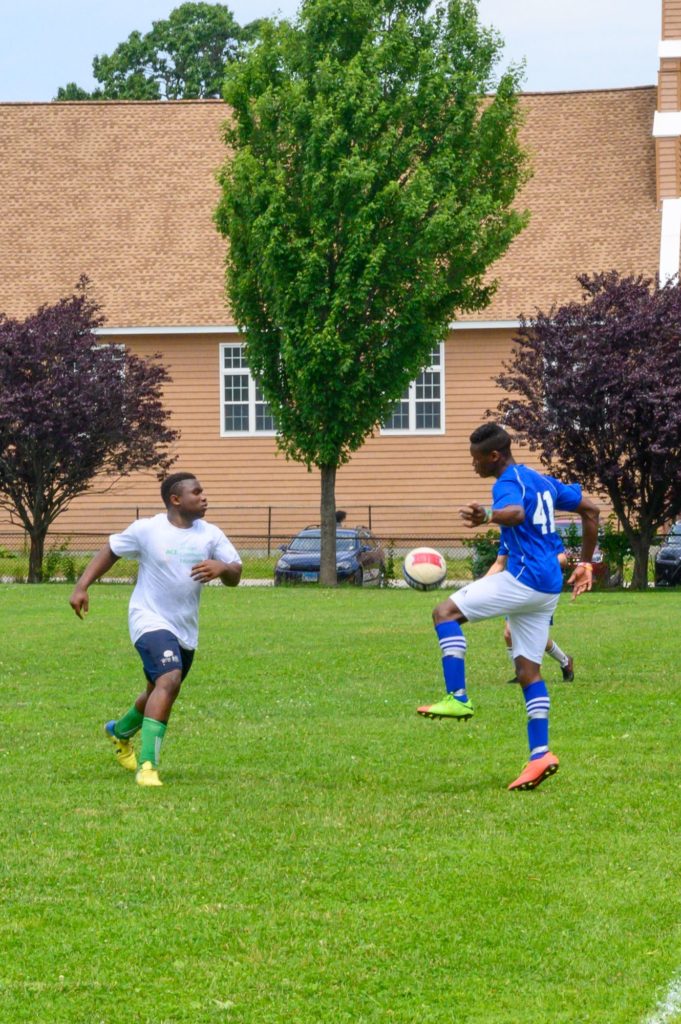 Worcester Smiles midfielder Jessica Ong knows first-hand what the game means outside of the United States. Ong grew up in Vietnam from age six to twelve, and then moved to Indonesia before coming back to the United States at the age of sixteen. "In Vietnam and Indonesia, there wasn't a ton of organized soccer, but all the kids played in the alleys, barefoot. So I kind of grew up just playing that way, but there weren't girls that played. It was the main sport as opposed to here where there are a bunch of different sports. As someone who moved countries a lot, soccer was always a way to connect with people that didn't require language. So, it was an easy way to make friends and connect with community."
Soccer IS a global language. It crosses lines of class, religion, race, ethnicity, gender, and national origin. Through this shared passion it's possible to connect with and begin to understand nearly anyone that you might encounter. One can grasp the wide-ranging experiences and cultures of others through this medium in a manner that no other social institution can begin to approach. Because immigrants and refugees are quickly becoming a larger part of what it means to be American, they are teaching the United States how to speak this language and Worcester is learning it too. Like learning any new skill or practice, there will be a learning curve. But if Worcester is willing to embrace this new identity, as one that celebrates football and diversity – then we surely can join the party that we've been missing out on for far too long.
Worcester has been looking for an opportunity to arrive as a city for decades. On the back side of the YWCA in Salem Sq. a banner touts in big, bold letters that "The answer is downtown." Through efforts such as the Worcester Common Fashion Outlets, the Worcester Airport/Route 146 access road, and most recently the PawSox, Worcester has been searching for a way to put itself on the map. In general, these ideas have sought to bring something into the city, to shape Worcester in some new and exciting way. What hasn't been tried in earnest and where no one has looked, is right under our noses. The diverse populations who make up Worcester's immigrant and refugee communities are the key to making Worcester the place that we all know and love. The way forward must involve those who have been overlooked and undervalued. While some have woken up to it, many are still in the dark to the fact that Worcester is teeming with people who help the city thrive that weren't born here. Worcester is a city of immigrants. It always has been but somehow this truth has become buried.
Every major metropolis is situated as a cultural and financial hub because of the assorted people who call it home. New York, Chicago, Los Angeles, Houston, Miami, Boston, they all sustain the people who ARE that city. One way to throw our support and encouragement behind the varied people who make Worcester shine is to support the game that's a cultural cornerstone for so many of them. The answer may be downtown, and it certainly was on the afternoon of the Women's World Cup Final as we cheered our team to victory. But the answer truly is anywhere that you see someone kicking a ball around with friends or family. Any time someone scores a scrappy goal and runs screaming their head off down the field, parking lot, or back alley that they're playing in. The answer is in the joy of children and the anguish of adults at the perfect pass or narrowly missed header. The answer is soccer.