Earlier today, a group called Worcester Asians 4 Black Lives released a report card of the Worcester City Manager Ed Augustus and some demands for how the shortcomings could be addressed.
The graphics have been posted to multiple Worcester groups via Facebook and Social Media, and are posted here in their entirety.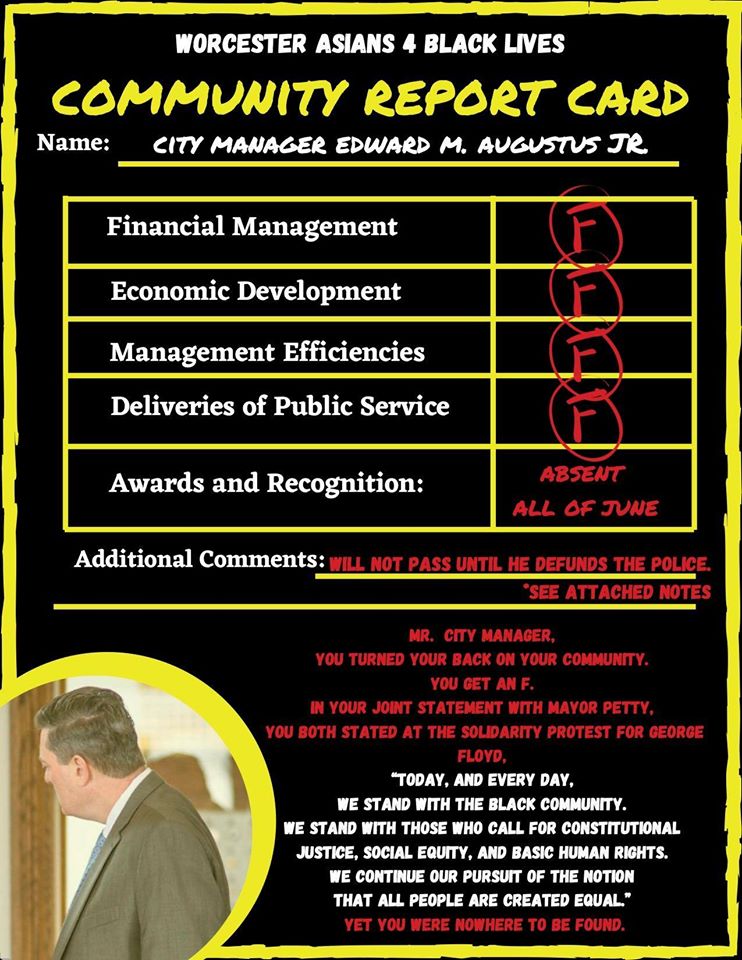 Worcester Asians 4 Black Lives
COMMUNITY REPORT CARD
Name: City Manager Edward M. Augustus Jr.
Financial Management: F
Economic Development: F
Management Efficiencies: F
Deliveries of Public Service: F
Awards and Recognition: ABSENT ALL OF JUNE
Additional Comments: Will not pass until he defunds the police.
*See attached Notes
MR. CITY MANAGER,
YOU TURNED YOUR BACK ON YOUR COMMUNITY.
YOU GET AN F.
IN YOUR JOINT STATEMENT WITH MAYOR PETTY,
YOU BOTH STATED AT THE SOLIDARITY PROTEST FOR GEORGE FLOYD:
"Today, and every day,
we stand with the Black Community.
We stand with those who call for constitutional justice, social equity, and basic human rights. We continue our pursuit of the notion
that all people are created equal."
YET YOU WERE NOWHERE TO BE FOUND.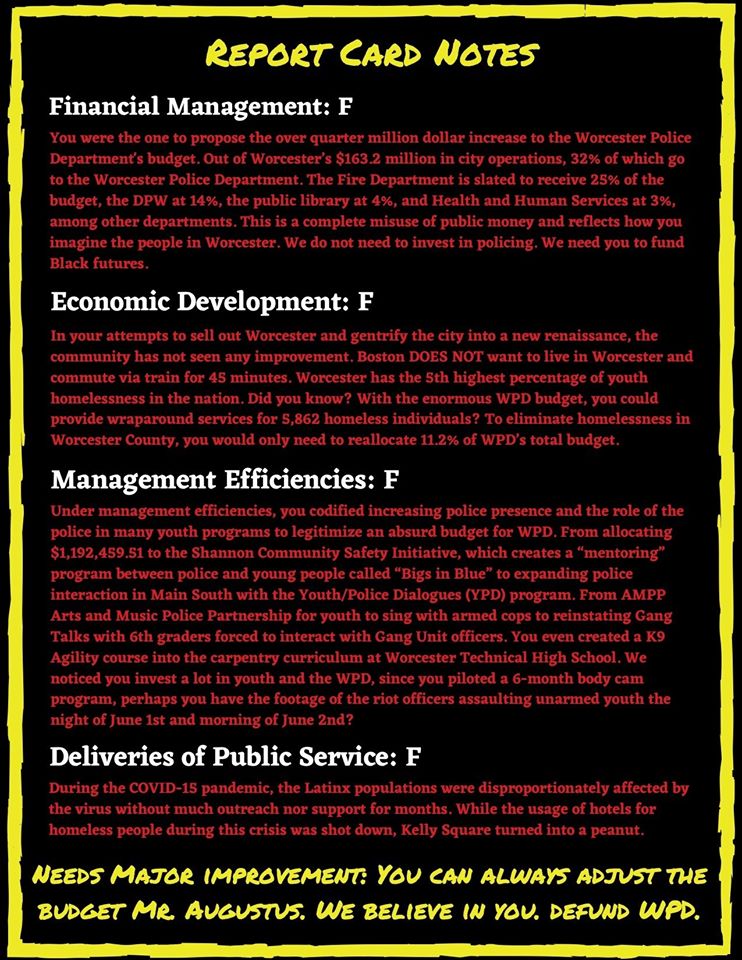 Report Card Notes
Financial Management: F
You were the one to propose the over quarter million dollar increase to the Worcester Police Department's budget. Out of Worcester's $163.2 million in city operations, 32% of which go to the Worcester Police Department. The Fire Department is slated to receive 25% of the budget, the DPW at 14%, the public library at 4%, and Health and Human Services at 3%, among other departments. This is a complete misuse of public money and reflects how you imagine the people in Worcester. We do not need to invest in policing. We need you to fund Black futures.
Economic Development: F
In your attempts to sell out Worcester and gentrify the city into a new renaissance, the community has not seen any improvement. Boston DOES NOT want to live in Worcester and commute via train for 45 minutes. Worcester has the 5th highest percentage of youth homelessness in the nation. Did you know? With the enormous WPD budget, you could provide wraparound services for 5,862 homeless individuals? To eliminate homelessness in Worcester County, you would only need to reallocate 11.2% of WPD's total budget.
Management Efficiencies: F
Under management efficiencies, you codified increasing police presence and the role of the police in many youth programs to legitimize an absurd budget for WPD. From allocating $1,192,459.51 to the Shannon Community Safety Initiative, which creates a "mentoring" program between police and young people called "Bigs in Blue" to expanding police interaction in Main South with the Youth/Police Dialogues (YPD) program. From AMPP Arts and Music Police Partnership for youth to sing with armed cops to reinstating Gang Talks with 6th graders forced to interact with Gang Unit officers. You even created a K9 Agility course into the carpentry curriculum at Worcester Technical High School. We noticed you invest a lot in youth and the WPD, since you piloted a 6-month body cam program, perhaps you have the footage of the riot officers assaulting unarmed youth the night of June 1st and morning of June 2nd?
Deliveries of Public Service: F
During the COVID-15 pandemic, the Latinx populations were disproportionately affected by the virus without much outreach nor support for months. While the usage of hotels for homeless people during this crisis was shot down, Kelly Square turned into a peanut.
Needs Major improvement: You can always adjust the budget Mr. Augustus. We believe in you. Defund WPD.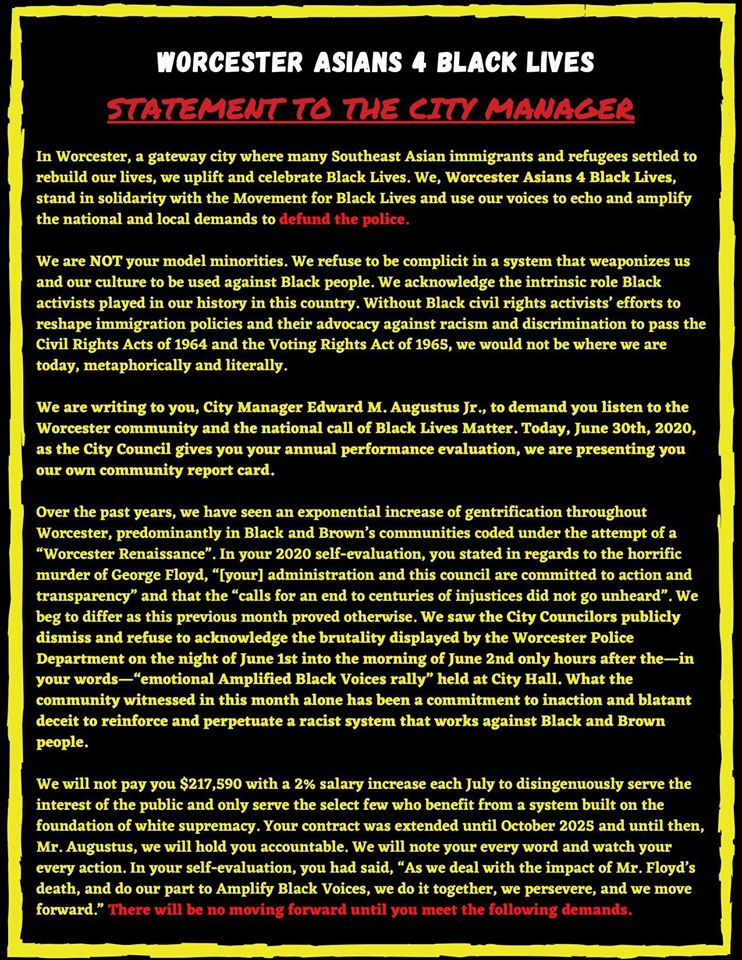 Worcester Asians 4 Black Lives
STATEMENT TO THE CITY MANAGER
In Worcester, a gateway city where many Southeast Asian immigrants and refugees settled to rebuild our lives, we uplift and celebrate Black Lives. We, Worcester Asians 4 Black Lives, stand in solidarity with the Movement for Black Lives and use our voices to echo and amplify the national and local demands to defund the police.
We are NOT your model minorities. We refuse to be complicit in a system that weaponizes us and our culture to be used against Black people. We acknowledge the intrinsic role Black activists played in our history in this country. Without Black civil rights activists' efforts to reshape immigration policies and their advocacy against racism and discrimination to pass the Civil Rights Acts of 1964 and the Voting Rights Act of 1965, we would not be where we are today, metaphorically and literally.
We are writing to you, City Manager Edward M. Augustus Jr., to demand you listen to the Worcester community and the national call of Black Lives Matter. Today, June 30th, 2020, as the City Council gives you your annual performance evaluation, we are presenting you our own community report card.
Over the past years, we have seen an exponential increase of gentrification throughout Worcester, predominantly in Black and Brown's communities coded under the attempt of a "Worcester Renaissance". In your 2020 self-evaluation, you stated in regards to the horrific murder of George Floyd, "[your] administration and this council are committed to action and transparency" and that the "calls for an end to centuries of injustices did not go unheard". We beg to differ as this previous month proved otherwise. We saw the City Councilors publicly dismiss and refuse to acknowledge the brutality displayed by the Worcester Police Department on the night of June 1st into the morning of June 2nd only hours after the—in your words—"emotional Amplified Black Voices rally" held at City Hall. What the community witnessed in this month alone has been a commitment to inaction and blatant deceit to reinforce and perpetuate a racist system that works against Black and Brown people.
We will not pay you $217,590 with a 2% salary increase each July to disingenuously serve the interest of the public and only serve the select few who benefit from a system built on the foundation of white supremacy. Your contract was extended until October 2025 and until then, Mr. Augustus, we will hold you accountable. We will note your every word and watch your every action. In your self-evaluation, you had said, "As we deal with the impact of Mr. Floyd's death, and do our part to Amplify Black Voices, we do it together, we persevere, and we move forward." There will be no moving forward until you meet the following demands.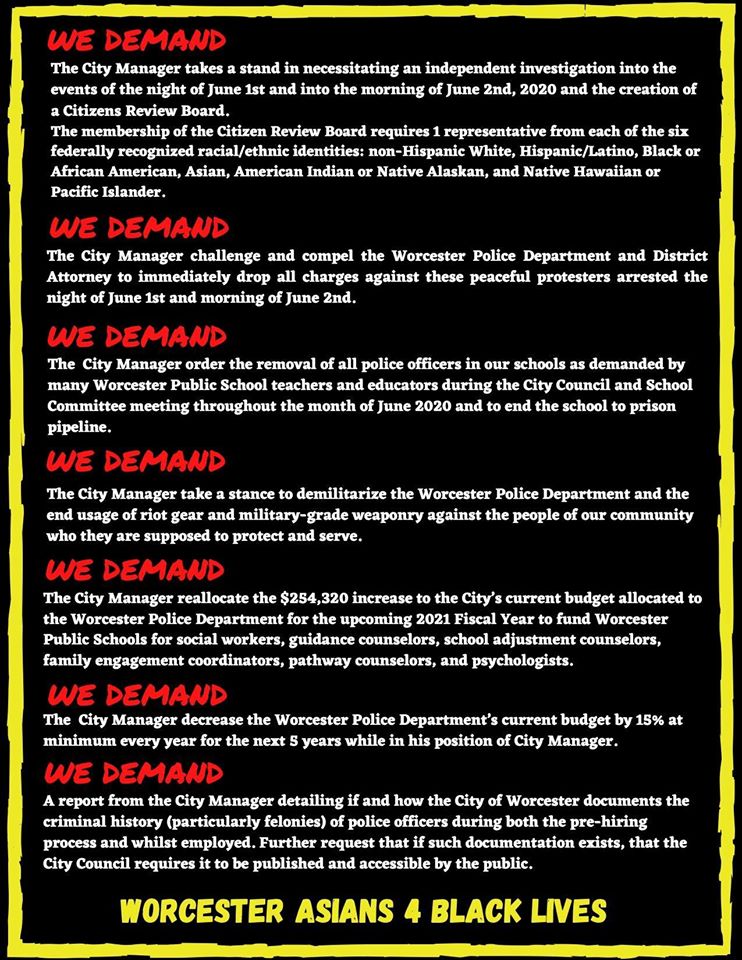 WE DEMAND
The City Manager takes a stand in necessitating an independent investigation into the events of the night of June 1st and into the morning of June 2nd, 2020 and the creation of a Citizens Review Board.
The membership of the Citizen Review Board requires 1 representative from each of the six federally recognized racial/ethnic identities: non-Hispanic White, Hispanic/Latino, Black or African American, Asian, American Indian or Native Alaskan, and Native Hawaiian or Pacific Islander.
WE DEMAND
The City Manager challenge and compel the Worcester Police Department and District Attorney to immediately drop all charges against these peaceful protesters arrested the night of June 1st and morning of June 2nd.
WE DEMAND
The City Manager order the removal of all police officers in our schools as demanded by many Worcester Public School teachers and educators during the City Council and School Committee meeting throughout the month of June 2020 and to end the school to prison pipeline.
WE DEMAND
The City Manager take a stance to demilitarize the Worcester Police Department and the end usage of riot gear and military-grade weaponry against the people of our community who they are supposed to protect and serve.
WE DEMAND
The City Manager reallocate the $254,320 increase to the City's current budget allocated to the Worcester Police Department for the upcoming 2021 Fiscal Year to fund Worcester Public Schools for social workers, guidance counselors, school adjustment counselors, family engagement coordinators, pathway counselors, and psychologists.
WE DEMAND
The City Manager decrease the Worcester Police Department's current budget by 15% at minimum every year for the next 5 years while in his position of City Manager.
WE DEMAND
A report from the City Manager detailing if and how the City of Worcester documents the criminal history (particularly felonies) of police officers during both the pre-hiring process and whilst employed. Further request that if such documentation exists, that the City Council requires it to be published and accessible by the public.
Worcester Asians 4 Black Lives